Cybersecurity and Data Protection In Healthcare
Cybersecurity and Data Protection In Healthcare
Cybersecurity in healthcare has become a unique challenge, you can block a stolen bank card and get a new one. But if information about laboratory tests or diseases is leaked, it is impossible to "cancel" it.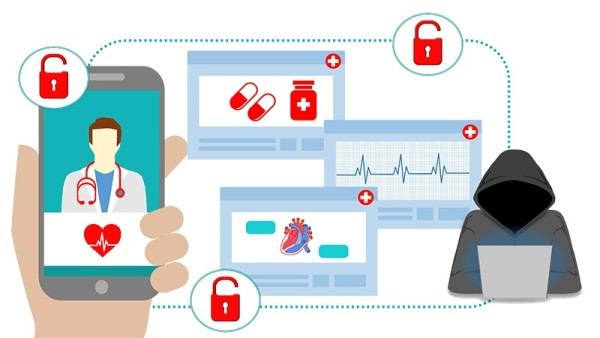 The healthcare industry has been transforming radically over the past decade under digital technologies. The global pandemic has accelerated data and processes, challenging the world to change. However, healthcare's ability to protect patient privacy becomes questionable.
An extremely sensitive ePHI (electronic protected health information) is at risk. It is handled by almost every clinic and hospital in various digital systems. Providers such as physicians and pharmacists use EHRs (electronic health records) and other software working with medical information. And this data is a very tempting target for cybercriminals.
There are more and more attacks being carried out on medical infrastructure, and the damage from ransomware is growing fast.
Due to the nature of medical data, cybersecurity in healthcare has become a unique challenge. For example, you can block a stolen bank card and get a new one. But if information about laboratory tests or diseases is leaked, it is impossible to "cancel" it. In addition, failures in clinical electronic systems endanger a patient's health and potentially even their life.
Following are various cybersecurity threats to the healthcare industry.
Phishing: Links or attachments in phishing emails, social media or text messages infect computer systems with malware that often spreads over the clinical network.

Man-in-the-middle(MITM)attacks: Cybercriminals inject themselves in conversations or data transfers and steal confidential (and very valuable) user info, causing severe losses and penalties for a confidentiality breach.

Attacks to network vulnerabilities: Address resolution protocol cache poisoning (ARP), HTTPS spoofing and other cybercrimes target the vital bastion of medical centres - wired and wireless networks, which provide access to patient information.

Ransomware: Criminals not only encrypt data and extort money for decryption but also block access to the entire clinical system, paralyzing the work of equipment for surgical operations and life support.
What Healthcare Can Do for Prevention from Cyber Threat
Here are some safety measures that can be taken in the medical sphere that are aimed to secure ePHI by protecting devices, digital systems, networks and data from attacks:
The lack of IT security skills poses major threats to healthcare. Therefore, professional and regular training on cybersecurity is essential.

Healthcare orginisation should control and monitor malicious file activity. They can do this by implementing systems that block unauthorized actions with data, prevent the sharing of unauthorized emails, restrict the ability to copy to external sources, etc.

Mobile phones, apps and IoMT devices have become standard practice for doctors and administrative personnel. To protect remote monitoring services, mobile data and IoT devices, Healthcare Orginisation should: a)Create a separate network for IoT devices, monitor them for sudden changes in activity levels and disable (or remove) nonessential ones. b)Use multi-factor authentication, application data encryption and remote locking of lost or stolen phones.
A proactive approach to privacy and information protection is expressed in creating an incident response plan with clear roles and responsibilities, regular risk assessments and the implementation of so-called cybersecurity frameworks.
HIPAA and similar regulations help healthcare reduce cybersecurity risks and maintain the data management process. Healthcare must comply with HIPPA (Health Insurance Portability and Accountability Act.) regulations which helps them to detect, respond, identify and prevent threats and protect the organization's important data.
__________________________________________________________
Credit Referance: Evgeniy Altynpara, Forbes Councils Member