The Ultimate Guide to BYOD Security
The Ultimate Guide to BYOD Security
"Bring Your Own Device" trend is no longer new: Enabling your workforce to use personally-owned devices at work increased productivity and flexibility, yet it also poses rising risks to your company's data.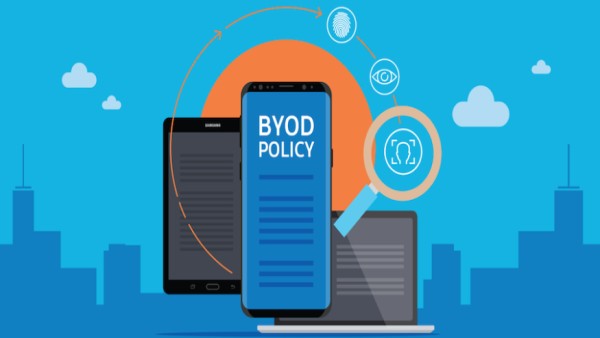 The Ultimate Guide to BYOD Security
The "Bring Your Own Device" (BYOD) trend is no longer new: It is the "new normal" for many companies. Enabling your workforce to use personally- owned devices at work increased productivity and flexibility, yet it also poses rising risks to your company's data.
If your company allows employees to bring their own computing devices to the workplace whether they are smartphones, tablets, or laptops you need a BYOD security policy. Initially, employees used only company-issued devices in the workplace. Today, smartphones and tablets have proliferated in the consumer market to the point that nearly every employee comes to work with their own internet-connected device. This means higher potential for an employee introducing security risks to your company.
Bring Your Own Device (BYOD) remains both a major opportunity and challenge for enterprises. By following the right approach to identifying BYOD risk and developing effective BYOD policy it is possible to capitalize on the benefits of BYOD without adding significant risk.
DEVICES AT WORK VS. DEVICES FOR WORK
It's one thing for an employee to bring a personal device to work and use it strictly for personal communications. This practice can still create risks, but the most substantial security risks are associated with employees using personal devices to conduct business, whether simply sending work-related emails or actually accessing secure company applications from their own smartphones or tablets.
THE CHALLENGES OF BYOD SECURITY
BYOD security is often a challenge for enterprises and SMBs alike. This stems from the fact that in order to be effective, companies must exert some form of control over smartphones, tablets, and laptops that are not owned by the company but are employees' personal assets. As BYOD has become increasingly common and awareness of security risks has grown, BYOD security policies are becoming more widely adopted and accepted by both companies and their employees.
Companies adopting BYOD benefit from reduced hardware and software costs, but at the same time, BYOD places additional responsibilities on IT departments, which must maintain the devices as well as ensure that the practice does not introduce unnecessary vulnerabilities to the company network and data.
THE NEED FOR BYOD SECURITY
In 2020, the world experienced significant disruption resulting from the COVID-19 pandemic, which accelerated the work from home culture and, in many cases, made it necessary for employees to access work-related applications from their personal devices. While 95% of organizations allow the use of employee-owned devices in the workplace in some way, two out of three employees use their personal devices at work, regardless of the company's BYOD policy. That means some employees are using their personal devices to access company networks and applications even if those activities are forbidden.
the likelihood for employees to use personal mobile devices to conduct business activities whether or not the company has prior knowledge and/or policies regarding the use of personal devices. In other words, companies who choose to ignore the likely use of personal devices are ignoring what could be a serious security risk.
Employers have two options: either embrace BYOD by enacting BYOD policies and security measures to make the practice a safer one, or prohibit BYOD entirely and find a way to enforce it. For most companies, it makes sense to embrace the BYOD trend and capitalize on the benefits it offers, such as increased employee productivity and greater employee satisfaction through better work-life balance, while implementing security measures that mitigate the risks involved.
DEFINING A BYOD SECURITY POLICY
Defining a BYOD security policy is a critical step in maintaining company security when employees are bringing their personal devices to the workplace. Few essential elements of a BYOD policy, including:
Acceptable use: what applications and assets are employees permitted to access from their personal devices?
Minimum required security controls for devices
Company-provided components, such as SSL certificates for device authentication
Company rights for altering the device, such as remote wiping for lost or stolen devices
That BYOD security, like enterprise security, requires a multi-faceted approach that addresses the potential risks while minimizing intrusions on employee privacy and usability when it comes to personal use. Context-aware security solutions that provide control over user access, applications, network connectivity, and devices, in addition to encryption capabilities, combine the key elements necessary for ensuring enterprise security in the BYOD landscape. Enterprises embracing these solutions capitalize on the benefits and reap the rewards of BYOD, such as employee productivity and satisfaction due to greater work-life balance, while effectively mitigating the security risks that once plagued companies adopting BYOD.